Nadia Dajani may not be a household name, but the New York born and raised actress has certainly made her mark in independent films and on the small screen as the (in Dajani's words) "go-to snarky New Yorker." She has accomplished a feat sought by most any thespian – to be a working actor. And although a bit of luck played a role, it was talent and hard work that brought this actress success.
Dajani grew up in the Westbeth apartment complex, an artist housing community in the West Village. "It was sheer madness – artists and their children," Dajani said with a smile. "I was lucky and cursed right away, since this [a life in the arts] was what I knew I would be doing."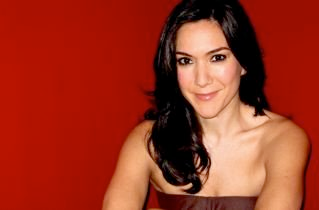 Through high school, where she attended the city's famed High School of Music and Performing Arts, Dajani trained in voice and musical theater. "I was a singer, a perform-ah," said Dajani (insert jazz hands here), "but I wasn't good enough. My mother would tell you otherwise, but I just wasn't good enough to be a singer and a Broadway star. And so I shifted my focus to figure out how to be an actor because I had no clue."
In a logical move for any aspiring actor to make, following her high school graduation, Dajani traveled across the Pond to study Shakespeare in London, but quickly realized that it too wasn't for her. "I learned I'm terrible and so I stopped that madness right away."
Having spent a year abroad, Dajani found herself stateside once more. After time making money waiting tables and hostessing and all the while wondering how she could start being an actor, she decided she needed to move to Los Angeles, because she assumed, "that's where actors go."
It happened that her best friend was a musician who had done some acting in his youth - Adam Horovitz, now known for his success with the Beastie Boys. It also happened that her best friend was the son of accomplished playwright Israel Horovitz, and had an agent that he agreed to help Dajani meet.
Upon arriving in LA, Dajani was brought before a team of agents at the now-defunct Writers and Artists Agency, who requested to see some evidence of the aspiring actress' work – a current play, a reel…anything. However, having only school play credits to her name, Dajani could only offer to prepare a scene and come back – and they agreed.
But rather than cull a scene from a published work – as most actors would do – Dajani set to work creating her own showcase piece…actually, a mini-play…20 minutes long! "When I think about it now – the nerve," Dajani said. "This was like the biggest opportunity anyone could ever have and I just shunned all of the normal scenes that actual talented people have written for actors and I just decided I needed to showcase me."
Fortunately for Dajani, her naïveté paid off, and after performing the full twenty-minute variety show, complete with announcer segments and scene changes, Dajani landed her first agent!
…check back soon for Part 2 of On The Line with Nadia Dajani: "Playing" around with pals Ethan Hawke, Josh Hamilton, Frank Whaley & more, plus landing that first game-changing role on "Ned & Stacey!"