When last we
left off
, Nadia Dajani moved to LA and signed with Writers and Artists - her first agent!
After performing her self-written 20 minute-long Donny and Marie-esque variety show, according to Dajani, her auditors were in shock: "The three of them were staring at me like I had just grown a second head. They said, 'We have no idea what we're going to do with you, but we'd like to sign you.'"
Not surprisingly, Dajani said yes...and she was off!
...or so she thought.
"I waited tables at a 50's restaurant, and I went out on auditions...and I never booked a thing."
Never really feeling she belonged in Los Angeles, the final straw came when her parked car was totaled by a hit-and-run driver. Lacking the funds to pay for the repairs, she took the misfortune as a sign it was time to head back to New York.
Little did she know that packing up to go home would be the decision that would lead to the beginning of a great career.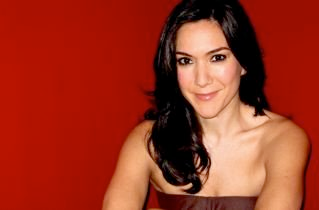 Back on familiar East Coast turf, she stayed with Writers and Artists and began taking acting classes taught by her agent. For four years, every Monday, Dajani would either drive or take a train from Grand Central Station up to teacher Molly McCarthy's Westchester home, honing her craft and building lasting friendships with fellow clients of the agency, including Heather Graham.
She also booked her first job ever: An afterschool special directed by Linda Lavin, perhaps best known for playing the title character in the hit TV sitcom Alice. Recalling that very special time, Dajani said, "I was very lucky - I always belonged here more."
Of course, one job does not a career make, so Dajani continued to live at home and work "all over." She played the roles of hostess, waitress and eventually bartender at a variety of New York City's less-upscale watering holes, finally "doing her time" at Down the Hatch, which, according to Dajani, was like "walking into the very bowels of hell."
But if that was the home of the devil, she found her angels while performing in a play at New York University. In a production directed by an eighteen-year-old Keith Bunin - who had yet to blossom into the accomplished playwright and television writer (In Treatment) he's known for today - Dajani acted in a cast with Ethan Hawke, Maddie Corman (actress - Some Kind of Wonderful & so much more), Liz Tucillo (writer - Sex and the City, He's Just Not That Into You), and Josh Hamilton (TV, Film, Broadway, you name it).
Whether they knew it in the moment or not, participation in that show would plant the seed for the Malaparte Theater Company. They only knew one thing: "We all loved each other and wanted to do more together," said Dajani.
At this time, Hawke was already well-known and donated $7000 to rent a little black-box called the Sanford Meisner Theater so the clan could mount a production of their own. Bunin offered up his translation of a Pirandello play, never before performed in English, and they mounted the show with the help of a cast that included Linda Larkin, Cynthia Nixon and prolific character actor/director Austin Pendleton.
The show was a hit: They made their money back and were able to continue reinvesting to produce more work. During the early to mid-90's, Malaparte's productions featured ensembles of talented up-and-comers such as Frank Whaley, Steve Zahn, Calista Flockhart...and of course, Nadia Dajani.
Between bartending and performing with Malaparte, Dajani continued to audition for film and TV projects, and her next job after the afterschool special was a mini-series (A Woman Named Jackie) in which she was cast as Christina Onassis. "That was the most hilarious mini-series I think ever made," said Dajani. She recalled shooting John F. Kennedy's fateful drive in Dallas, with 10 extras holding a flag on one side of the street and using the same 10 people when the camera turned around to capture the reverse angle. "But I had the time of my life. I learned a lot."
Despite these intermittent moments of success, Dajani would continue pouring drinks for drunken revelers until she got her "big break," booking a series regular role in the Debra Messing-led pilot Ned and Stacey.
She remembered the day she called the bar: "They were having a staff meeting and I said 'I got the job,' and they all screamed, and I said 'I've been waiting to say this for four years - I quit'...the stupidest thing was, most pilots don't get picked up. All I did was fly to LA and shoot for ten days, but then I was done."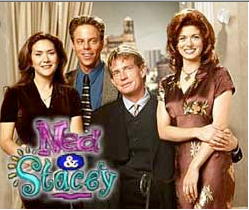 Fortunately, for Dajani, the pilot did get picked up, and that marked the end of her days at the bar.
For that job, Dajani credits Amy Introcaso Davis, who was the head of casting at Fox. "I loved her and she loved me...we just really got along," said Dajani.
Because of that relationship, Davis "snuck" Dajani in to meet the show's executive producer, who was in New York to see actresses for the role of Stacey. "I met him on the same rainy horrible day - freezing winter February rain, snots coming out of your nose - that I met a really eccentric director, David O'Russell. I auditioned for (the film) Flirting with Disaster and then went over to Fox to meet (Ned and Stacey's) Michael Whitehorn.
She got the movie, six weeks later learned that there was "interest in her" for the role of Amanda Moyer on Ned and Stacey, and by August, she was in Los Angeles working as a series regular on a prime-time sitcom.
After the two-year life of the show, Dajani said, "everything changed - I wasn't green anymore." She'd proven that she could deliver, and the industry recognized it. "I was the go-to snarky New Yorker for a little while."
But although Dajani feels that she's been lucky, no one can say that she hasn't worked hard for her achievements...and continues to do so.
Even now, with nearly 20 films, as many television credits, and 16 pilots under her belt, she's flying to stay at a friend's place in Los Angeles for pilot season.
Her rationale? "Not for nothing, but it's not a bad idea to show your face."
...and not a bad excuse for escaping another cold New York winter!